Driveway gate adds class to your place and keeps your car insurance rates lower by keeping your vehicles safe. OZ electric gate repair Los Angeles manufacture, design and installs all kinds of driveway gates for you including Electric Driveway Gates, Manual Driveway Gates, Wrought Iron Driveway Gates, Automatic Driveway Gates, Metal Driveway Gates, and many more.
If you want a particular and unique design for a driveway gate, we will help you to bring your idea to life by building a custom driveway for you. We design custom gates according to the needs, location, and budget of the client. We also suggest some modifications and advancements to the customer proposed design. We cannot compromise with the quality of our products and materials. We are known for our best custom driveway gate service in Los Angeles. At OZ electric gate repair we provide all types of services for your driveway gates, some basic are installation, repair and maintenance services.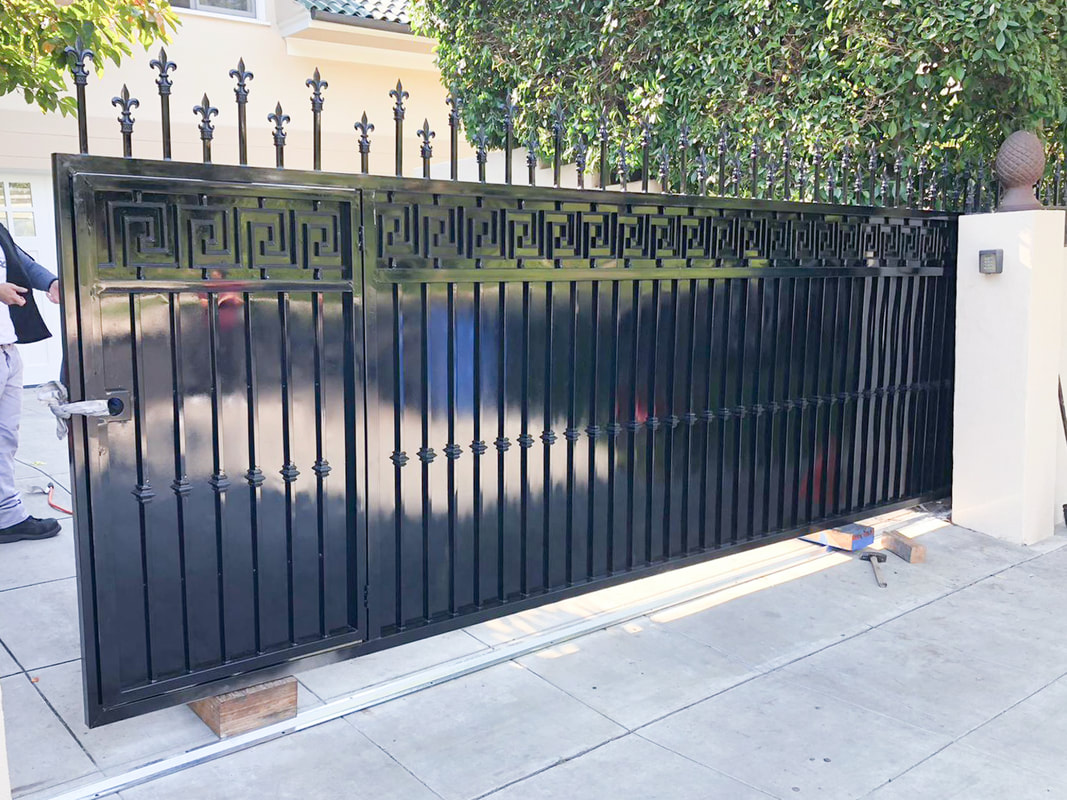 Driveway gate installation service:
Electric Driveway Gate Installation service Los Angeles:
These days people live a busy life and have no time to waste on small things and people find ways to save as much time as possible and in this advanced era, we want as much ease as possible, so it's easier to use automatic driveway gates than to grapple with old and hard to open gates. OZ electric gate repair increases the value and security of your home and also provides you the privacy you want. Steel frames used in the gate provide a secure structure to the gates. We provide service of automatic driveway gate Installation and by this automatic gate system you will be able to open the gate without getting out of the car
Custom Driveway Gate Installation service Los Angeles:
If you have a low budget and want the best service in it, or you want to add some features of your choice to your driveway gates. We will provide you the services of designing custom driveway gates with a variety of material choices for you so that you can choose the material that suits your needs and budget. We will bring your dream to life by creating and fabricating the gates with the material you want and into the design of your choice. With OZ electric gate repair you aren't bound to select any one of pre-fabricated designs.
Metal Driveway Gate Installation service Los Angeles:
If you want a driveway gate for a long term use it's better to one of our best metal driveway gates. OZ electric gate repair and installation provide you a wide variety of materials and styles for your gates. We will design custom gates for you and will also suggest you the trending designs. Our trained team of designers and engineers will make your vision reality. Our team is trustable, skilled and experienced.
Driveway gate repair Service Los Angeles:
Our workers have been fabricating and building driveway gates for many years. At OZ electric gate repair we design and create masterpieces that add value to your place. Whenever your gate fails to work properly or any of its parts is broken or showing some problem in its functioning, our expert, trained and certified technicians will reach your place immediately after receiving a call from you to fix the problem as soon as possible. Our technicians can weld and repair each and every part of your gate, thus providing you the solution of your all gate problems. They will check the whole functioning of your gate and then do the necessary repair and replacements required. OZ electric gate repair will make sure that your gate is safe and secure by checking its functionality again after repair.
Driveway gate Maintenance service Los Angeles:
All driveway gates require maintenance and a regular checkup of their service some time. The residential gates which are not used frequently require a service once or twice a year, medium usage gates require service 3 times year and frequently used driveway gates require maintenance service 4 times per year. At OZ electric gate repair we provide services of testing and inspection of safety-related devices and lubrication of mechanical components.
Whenever you need a gate installment, gate repair or a gate replacement feel free to contact us. OZ electric gate repair has a perfect record and is known as one of the top driveway gate installation and repair companies in Los Angeles.